BOISSONS DELAME, a young company specialising in the sale of French organic wines, already very committed to an eco-responsible approach, has chosen TOWT - transport à la voile and its cargo ships to transport its wines as part of its commercial development in the United States. The company has already drastically reduced its ecological footprint through its packaging and logistics choices, and wishes to continue its efforts to decarbonise the transport of its wines.

---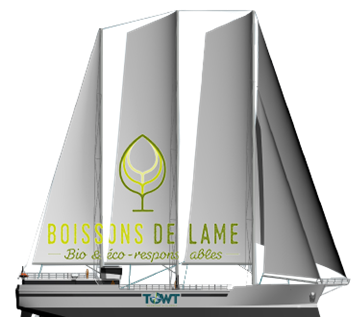 Founded in 2011 and the first French cargo carrier under sail, TOWT offers its shipper-clients a unique maritime transport service, 90% carbon-free, on the major Atlantic and transatlantic maritime routes. On board its 78-metre long cargo ships, cocoa beans, coffee, textiles, cosmetics, but also wine and spirits. TOWT holds the ANEMOS label, which documents the origin, GPS route, transport conditions and carbon footprint of each product transported by sail.
---
Maud & Etienne DELANNOY, founders of BOISSONS DELAME
"As a company, we believe it is our duty to have a positive impact on the environment. Thus, being carbon neutral has always been at the heart of our development strategy. In all the decisions we make, we keep this objective in mind, especially through our first wine brand La Dame Bleue, for which we are a member of 1% For The Planet and donate 1% of sales to the preservation of the environment and the fight against global warming. Having our wines travel on cargo ships is an additional step, a guarantee for our partners and consumers of our ecological commitments."

Guillaume Le Grand, President and CEO of TOWT - transport à la voile
"We are very happy to welcome on board BOISSONS DELAME and its brand of organic wines, La Dame bleue. We share with its founders, Maud and Etienne Delannoy, the conviction that transparent and environmentally friendly maritime transport, because it is drastically decarbonised, is a powerful lever for promoting the appellations and origins of French wines on the North American market. After having filled up with quality raw materials imported to France, TOWT is proud to continue contributing to the success of French exports to New York."

---